A sensory friendly space, presented by the MCC Foundation, is now open at the MCG offering visitors some quiet and calm on event day no matter the size or volume of the crowd.
Located within the Australian Sports Museum* on Level 1 (inside Gate 3, behind bay M51) this is a space for patrons of all ages who have sensory sensitivities, processing differences, or other
hidden disabilities
(e.g. autism, acquired brain injury, mental illness, PTSD, dementia).
The space has been designed in consultation with Autism Spectrum Australia (Aspect) and provides patrons with a quiet, safe and supported place to retreat and recharge away from the stress and stimulation of the live event. It's a 'gateway to game day' for fans.
There are two rooms within the space offering patrons the ability to choose between quietly watching the event in a tiered theatre or using personal sensory strategies and fidget toys to relax in a multi-purpose room.
A lift and ramp facilitates access to the space and male, female and accessible bathrooms are also in close proximity.
MCC staff are available in the sensory spaces at every event to support visitors and their families. These staff have been provided with Aspect's Sensory Room Awareness training and have completed the
Hidden Disabilities Sunflower Scheme
training program.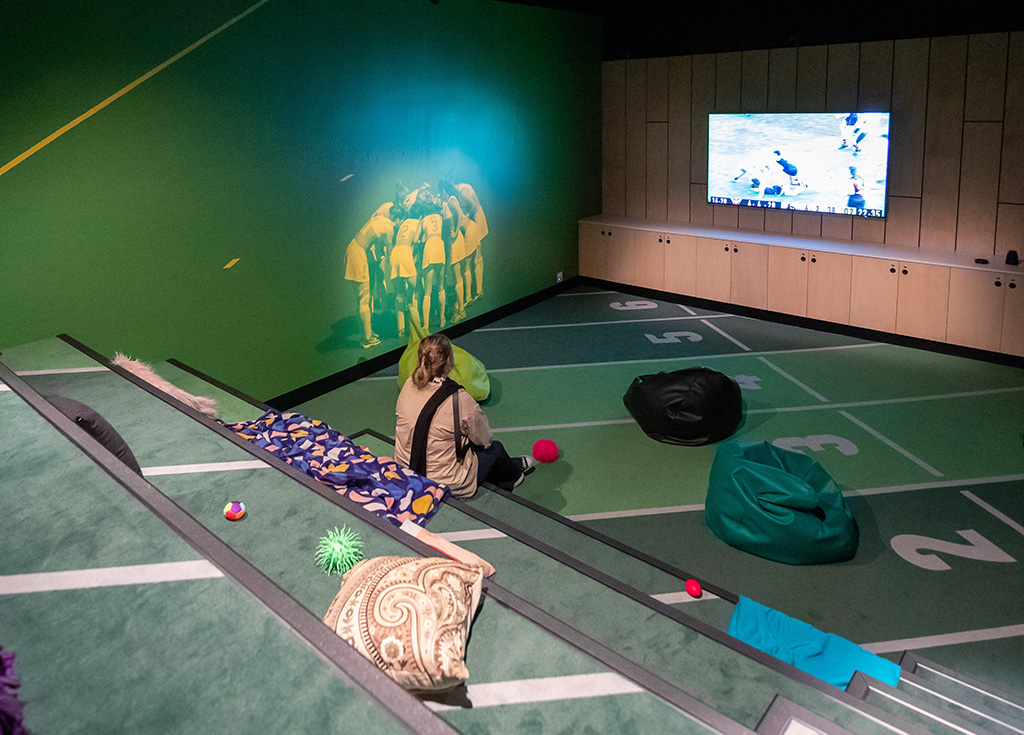 Opening Times
The space will open when public gates open on an event day and close when the event ends (unless advised otherwise)*.
Visual Story - preparing for your visit to the MCG
Visual stories are step-by-step guides with photos used to prepare a person for, and increase the predictability of a new environment or situation. This helps bring familiarity to a process and to reduce anxiety and stress. This visual story illustrates how to access the MCG, what to expect when entering the stadium and what you might experience during an event.
Click here
to download and print the visual story ahead of your MCG visit.
Note to visitors
All visitors under the age of 18 must be accompanied and supervised by a responsible adult at all times whilst in the space.
Bookings are not required.
Time limits will apply to visitors if the room's capacity is reached.
The sensory friendly space is an alcohol free zone. Food and drink is permitted.
The MCC recognises and supports the Hidden Disabilities Sunflower Scheme. Visitors to the Sensory Friendly Space will have the opportunity to collect a free Hidden Disabilities Sunflower Lanyard.
The wider Australian Sports Museum will also be open to Museum ticketholders from gate opening time until 15 minutes before the match commences. Whilst the area is shared some additional noise may be encountered.
The sensory friendly space is not a social space or children's play area.
*The MCC reserves the right to adjust the opening and closing times or location from time to time. Our best efforts will be made to ensure any changes will be publicised ahead of time but sometimes this may not be possible.